MCILROY RETAINS WORLD NO.1 SPOT BY CLAIMING HIS 2ND MAJOR TITLE IN 4 WEEKS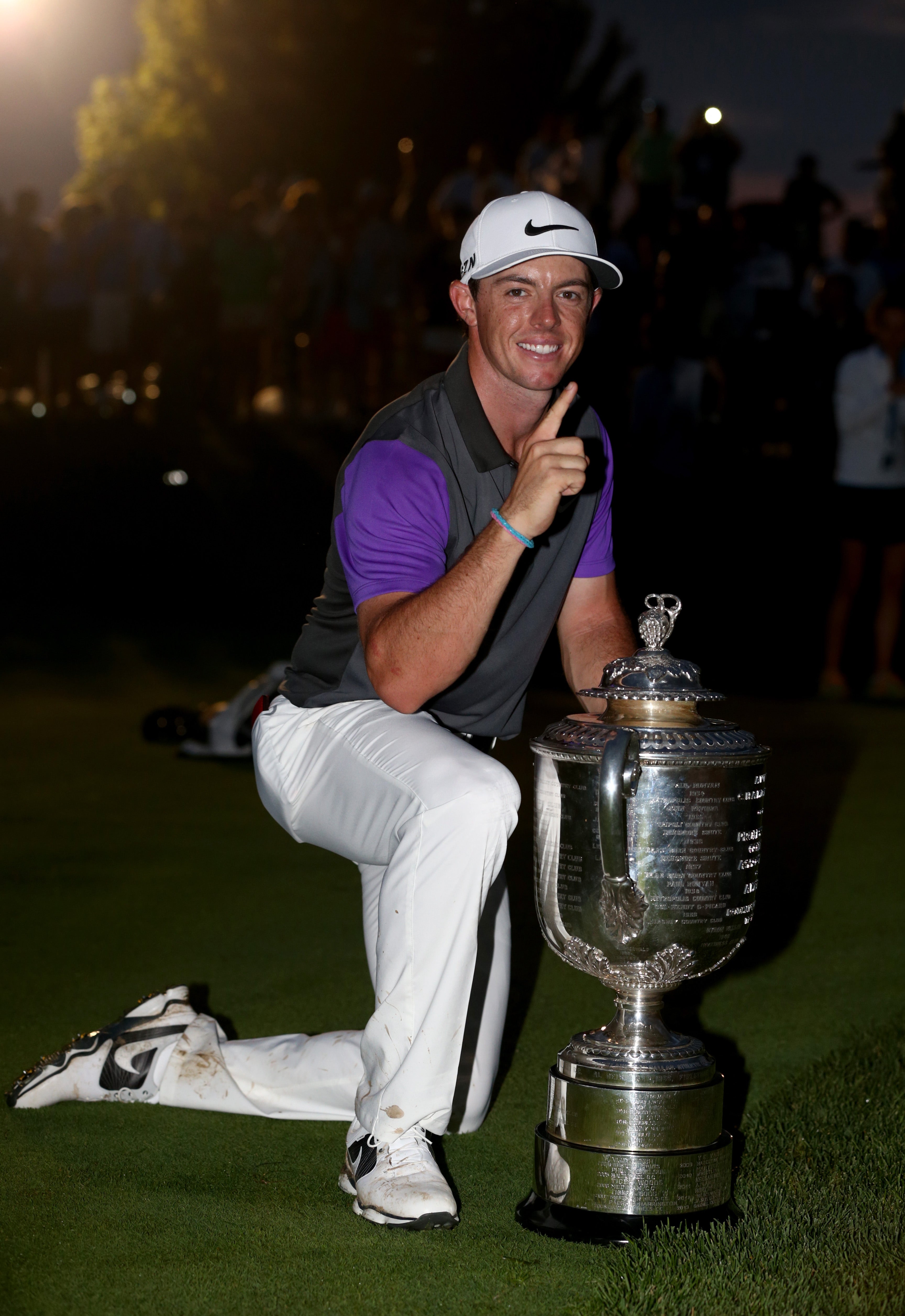 Rory McIlroy won his second PGA Championship in as exciting a battle as major golf has seen in quite some time. McIlroy carded a closing 68 at Valhalla to finish 16 under par, one shot ahead of Phil Mickelson after a remarkable final day which finished in near-darkness, with the lights blazing from the clubhouse behind the 18th green.
11TH AUGUST 2014 | 07:55 AM
PGA Championship
Rory McIlroy claimed his second Major title in four weeks and a third win in succession in a thrilling, weather-affected climax to the US PGA Championship on Sunday.
McIlroy carded a closing 68 at Valhalla to finish 16 under par, one shot ahead of Phil Mickelson after a remarkable final day which finished in near-darkness, with the lights blazing from the clubhouse behind the 18th green.
Rickie Fowler and Henrik Stenson had been part of a three-way tie for the lead with Mickelson on the back nine but dropped shots on the closing stretch to finish two behind McIlroy on 14 under.
A torrential downpour which flooded the course and caused a delay of almost two hours meant it was a race against time to get play finished, so much so that Mickelson and Fowler stood aside on the 18th to allow the final group to tee off.
McIlroy's drive finished dangerously close to the water to the right of the fairway, but a closing par was enough for the 25 year old to become the first player since Padraig Harrington in 2008 to win back-to-back Majors, his victories in the Open Championship and US PGA also sandwiched by a first World Golf Championships win in the Bridgestone Invitational last week.
Lifting the Wanamaker Trophy for the second time also makes the Northern Irishman the third youngest player after Tiger Woods and Jack Nicklaus to win four Majors, just one less than the total won by the late Seve Ballesteros and two behind Sir Nick Faldo.
Web.com - Price Cutter Charity Championship presented by Dr Pepper
Cameron Percy birdied the 72nd hole, at Highlands Springs Country Club, for a one-stroke victory. Percy carded a 68 on Sunday and finished at 21-under 267. The $121,500 first-place prize moves the Australian native to No. 12 on the Regular Season money list, likely netting him a return trip to the PGA TOUR.
"It feels unbelievable," Percy said. "I've been playing well for a while. To get out with a win feels fantastic."
Finishing one stroke back were Brandt Jobe (66), Zac Blair (66), Michael Kim (67) and Carlos Sainz Jr. (67), who were all in the clubhouse at 20 under as Percy played the final hole.
Rounding out the top 10, in a tie for sixth, were Justin Thomas (64), Ryan Spears (67) and Sebastian Cappelen (69).
Challenge Tour – Norwegian Challenge
Benjamin Hebert secured his fourth Challenge Tour title – and the first for three years – on a nerve-wracking final day at the Norwegian Challenge.
Hebert signed for a round of 72 and a 15 under par aggregate winning total after an enthralling tussle with Florian Fritsch, who at one point drew level with the Frenchman but ultimately had to settle for the fourth runner-up finish of his Challenge Tour career.
Despite a stiffening breeze at Miklagard Golf Club, Hebert appeared to be cruising to victory for most of the day, before a severe wobble threatened to derail his title charge for a second week running.
Hebert surrendered a three shot lead on the final day in Azerbaijan last week, and history appeared to be repeating itself when he dropped four shots in four holes from the 11th.
But the 27 year old from Brive bounced back in brilliant fashion, making a brave birdie on the 16th hole before stiffing his approach to the last for a grandstand finish.
Korean Golf Tour – 1st Maeil Dairies Open
Hwang Jung-gon claimed his first win of the season at the The 1st Maeil Dairies Open. The win saw him move from 314th to 272nd in the World Ranking.
PGA Tour China - Yunnan Open
Gunn Charoenkul realized Sunday that birdies -- at least enough of them -- can beat eagles. Charoenkul survived a three-eagle day by Xin Jun Zhang and pulled away late with three consecutive birdies over his final three holes to defeat Zhang by three shots and win the Yulongwan Yunnan Open. The victory was Charoenkul's first on the PGA TOUR China Series and his fourth overall title in 2014 to go with three Asian Tour wins. Charoenkul moves from 573rd to 428th in the World Ranking.
"I'm really excited right now. My first intention when I came here this week was to try all the new stuff I have been practicing on and seeing whether it was working," said the 22-year-old Thai native, who turned pro at age 18. "I played much better than I expected.
"Winning the trophy was not really the most important thing to me," continued Charoenkul, who worked on his game by himself for three seasons before turning to Shane Gillespie, the head instructor of the TOUR Academy's International Development, this season, "I've been improving my game at the moment, and I'm really happy about the way I'm progressing.
PGA Tour Canada - Forces and Families Open
With a dramatic 70-foot birdie putt and a final round 9-under 62, Summerland, British Columbia's Greg Machtaler captured the inaugural FORCES & FAMILIES OPEN on Sunday, becoming the first Canadian winner on PGA TOUR Canada in 2014.
The 30-year old made a brilliant charge up the leaderboard on Sunday, playing his final 11 holes in 9-under par, a run that included two eagles and a back nine 30. After finding the green at the 72nd hole, Machtaler rolled in a long birdie putt to post the clubhouse lead at 17-under, then watched as neither American Jeff Dennis or Baddeck, Nova Scotia's Peter Campbell could match him with a birdie at the last.
When 54-hole leader Greg Eason of England couldn't hole out for eagle to force a playoff, Machtaler was officially the champion, becoming the first Canadian to win since Max Gilbert at the 2013 TOUR Championship of Canada presented by Freedom 55 Financial.
The win comes just under a year after Machtaler's father Glenn passed away, a decision that spurred the 2007-2011 PGA TOUR Canada member to resume his chase for success on TOUR.